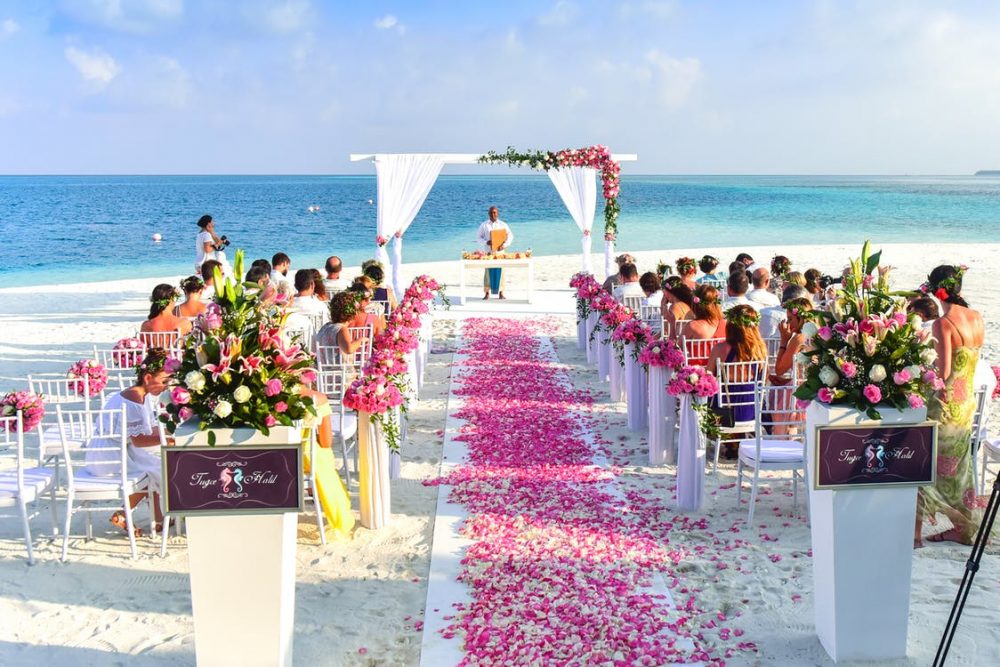 You've received your invitation, and sent your response, but now it's time for the hard part — choosing the perfect outfit. Getting an outfit that's appropriate for a wedding but also on-trend can be difficult, so how can you do it? Read on as we explore the latest SS18 trends and how to integrate what's hot into your wardrobe for a summertime wedding.
Colour and prints
It can be hard to decide what colours and print to wear for a wedding. If you're usual style is bold and loud, you might want to consider toning it down for a wedding. And there's the obvious rule to follow of course — don't wear white or ivory. But, what do the designers think should be hot this season?
Florals always make an appearance around spring and summer time. Floral print shouldn't be solely associated with old-fashioned patterns either — it can bring an outfit to life with bright hues and brilliant designs. It's vintage-look florals that are taking the show this season, this subtler style is suitable for a wedding as a nice, classic look.
It's no surprise that yellow is big this season, too — everyone loves to bring out this bright colour around summer time. Luxury boutiques have reported that sales of yellow dresses have soared in recent months and it doesn't look like the popularity is slowing down. What's great about yellow is that it comes in a range of shades yet remains bright. Opt for golden or mustard hues if highlighter-yellow isn't your scene or pick out a fluorescent garment if you want to stand out from the crowd. A yellow dress is perfect for a daytime wedding outfit — bringing a shimmer of sunshine to the day!
If you already have a dress that you love but it seems a little plain for a summertime wedding, why not add some colour? This worked well for brand, Pedro del Hierro, in Madrid's AW18 collection with splashes of orange and purple, and there's no reason why it can't be relevant this season, too. Make your little black dress pop with brightly coloured accessories and shoes.
Burberry was all about embracing the colours of the rainbow in its latest show — presenting multi-coloured coats and bright jumpers. Similarly, Valentino made its show all about contrast through combining yellow flowers with subtle pastel pinks. Other designers followed suit, combining red and pink and creating a colour palette that we're not used to.
Although glitz and glam is usually reserved for winter celebrations, we have seen a lot of this on the catwalk. Ashish brought sparkle to the runway in London with her flawless floor-length dresses or as they say in Spain, vestidos hasta el suelo! So, don't be shy in adding some shine to your wedding guest outfit.
Style and silhouettes
When it comes to the style and silhouette of what you wear, the main thing is that you're wearing something that suits your body shape and it's an outfit that you feel comfortable in — especially at a wedding when it's often a long event. Let's take a look at what was prominent on the runway…
What goes around comes around — especially when it comes to fashion, and this season we're revisiting the 80s. Retro fashion is predicted to be big this season, and there's no reason that you can't use this as inspiration for a wedding guest outfit. Think padded shoulders, clinched waists, subtle ruffles and velvet.
Silk dresses were also seen on the catwalk, creating soft silhouettes as opposed to figure-hugging garments. Designer Simone Rocha was all about this look, bringing maxi dresses with satin bows and elegant ruches to the catwalk.
Sleeveless dresses are also very 'in' this season. From a Bardot style, to cold-shoulder dresses, it's all about revealing your arms this spring and summer — perfect for soaking up the sun at an outdoor wedding.
Choosing your outfit
So, considering what's on-trend this season, what should you be picking out to wear to your next wedding celebration?
Think floral maxi dresses with your favourite strappy sandals, trouser suits with a nipped in waist and out-there materials such as velvet and silk. Don't be afraid to be bold with your colours, bring out the bright hues, such as yellow, and make your outfits pop with fluorescent shades.