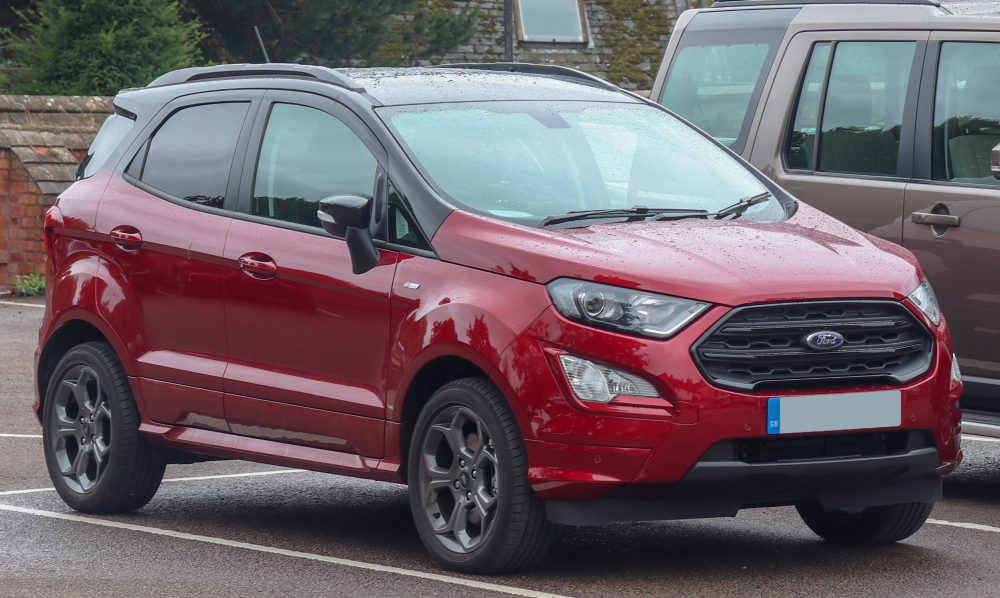 Ford EcoSport is a small crossover car that has found a comfortable place for itself in a segment where people are looking to own an SUV but do not want to invest in a huge one since they have a small family or a tight budget. Ford EcoSport has a sturdy body and there are various other competitors in the market who have better specifications too, however, when it comes to prices and trim levels, Ford EcoSport gives you the best deal.
Why buy Ford EcoSport?
A major advantage of buying Ford EcoSport is that you will get a ton of cargo space. the trunk can hold luggage of almost 4-5 bags of medium size. Another advantage is specifically for tall drivers. the driving position is low which is a great plus point for tall drivers. the infotainment system is not sleek or modern but it is easy to use and buttons and knobs have found their purpose. It has two rows and both rows are adult friendly.
What are drawbacks?
This is because of a few drawbacks which have pushed it in the bottom of the chart. the major drawback is a poor base engine. weak base engine results in poor acceleration. Moreover, the car offers an unsettled ride. passengers do not really enjoy a comfortable ride. visibility from the car is also hindered due to large window pillars. the car also lacks active safety features. When it is compared with rivals, they offer better active safety features, comfortable cabin, and sleek engine.
Features and Specifications
This car is designed for 5 passengers to sit comfortably. front row can accommodate a driver and co-passenger and the second row of the car can accommodate 3 passengers. There is no third row since it is a subcompact SUV. However, ride offered by car is not comfortable and has received a few complaints from customers. fuel economy of the car is a plus point for customers. 2018 Ford ecosport review gives an idea that  the car gives an average of 23-27 MPG on city roads and 29 MPG on highways. the car is available as a front-wheel-drive or a 4-wheel-drive depending on customers. the engine is rated at 123 hp to 166 hp. When this engine is compared to other cars in this segment, the EcoSport falls short by some power which does not do justice to Ford EcoSport price.
Interior
The interiors of the Ford are not really praised by critics or customers. front seats of the cabin are comfortable but when it comes to rear seats, the room is not enough for all three passengers to sit comfortably. rear seat size is average and so is headroom. However, major lacking is in terms of legroom. seats are made with cloth upholstery and are adjustable. When it comes to seats, seats are heated and are partial or full leather upholstery depending on trim level. drivers, however, can have a comfortable journey. The car comes with a heated and leather-wrapped steering wheel with height-adjustable driver seat. driver seats are power adjustable.
Feature photo By Vauxford – Own work, CC BY-SA 4.0, https://commons.wikimedia.org/w/index.php?curid=71711203