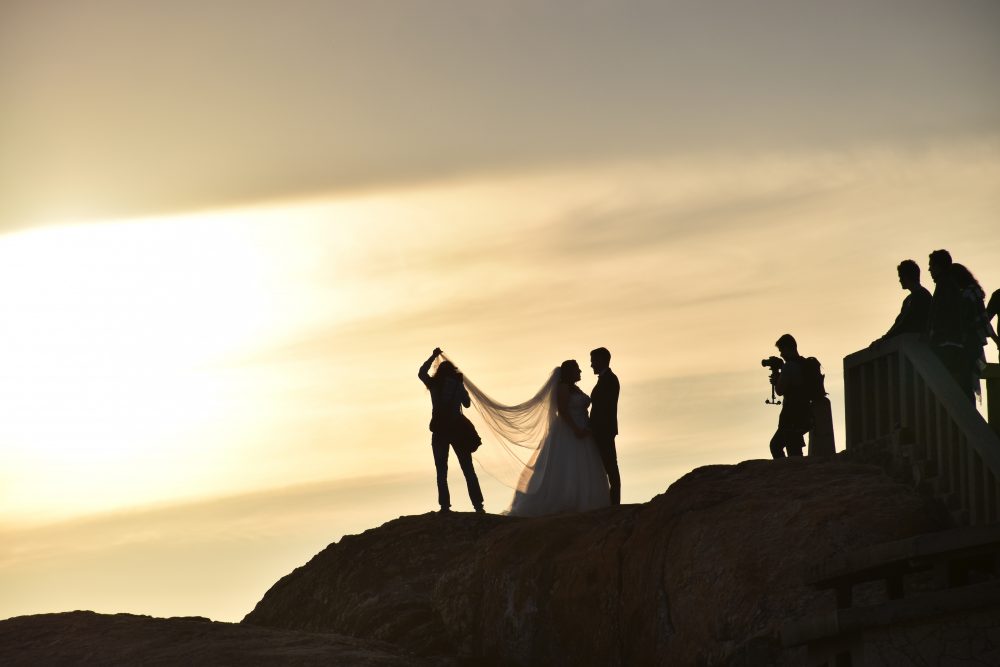 Thanks to smartphones and the popularity of photo-sharing apps like Instagram, everyone is becoming an aspiring photographer! Snaps of food, landscapes, and of course, the ever-abundant selfie are flooding our social media, and with the improving camera capabilities of smartphones, the quality is rising too.
But there's one area of photography that smartphones have not yet invaded – wedding photography still demands the hand of a professional. It's perfectly understandable, as these photos are a once-in-a-lifetime keepsake.
The importance of detail
Photographs will be your primary source of memorable moments captured forever, so hiring a professional is really the only choice. Some decide to risk it all by letting their guests loose to capture their big day, but is it worth it?
A professional will bring the right kit and a wealth of knowledge for the job. From simply setting the camera's date and time to allow for chronological editing, to using camera tripods to maximise sharpness in those all-important portrait shots, their attention to detail goes above and beyond.
Your friend might very well have the latest Sony camera and they might mean well, and you'll save money for it, but will they really know the finer details of photography? For example, if a background isn't going to add anything to the photo, it might be worth setting the exposure down to -2 stops to darken it and help your subjects (more than likely the bride and groom) stand out more. You would raise the shutter speed to do this.
At the end of the day, photography is an art and a skill, and it's best to get a professional for important photos.
A keepsake for all
Your guests would love to take something home to remember the big day. Recently, there has been a rise in the popularity of photobooths. Whereas they used to be a staple in shops and department stores, the photobooth is now the 'must-have' when organising a wedding.
Wedding photograph can come in traditional and untraditional forms then! Photobooths are a great form of entertainment for your guests during the 'down time' of the wedding. And this photo opportunity has taken over from the concept of having disposable cameras on each table to provide the silly shots. So, let your guests don the moustache and 70s-style sunglasses to give you all a good chuckle for years to come.
As with every sector, technology has provided wedding photographers with an upgrade or two. While the traditions of hiring a photographer are still rife, the way in which we receive our photos is changing. In years gone by you'd wait to see a selection of prints from your photographer, whereas these days, thanks to the Cloud, it's possible to share images digitally. This allows photographers to create online portals for couples to easily view and share their photos. By sharing the experience in this format, wedding photographers can even put a montage of the images together with the first dance tune providing the background music to add a great personal touch.
Wedding trends are changing all the time, but photography remains a sacred element of the big day that can't afford to change. Make sure you steer away from 'bridezilla' and let the professionals use the traditional traits of wedding photography to play a huge part in making your big day one you'll remember for all the right reasons.
Sources
http://www.boho-weddings.com/2013/10/30/why-hiring-a-professional-wedding-photographer-is-so-important/
https://digital-photography-school.com/wedding-photography-tips-to-get-you-started/
http://www.inspiredbride.net/photo-booth-props/
https://photography.tutsplus.com/tutorials/3-smart-ways-to-deliver-work-to-your-photography-clients–cms-24681