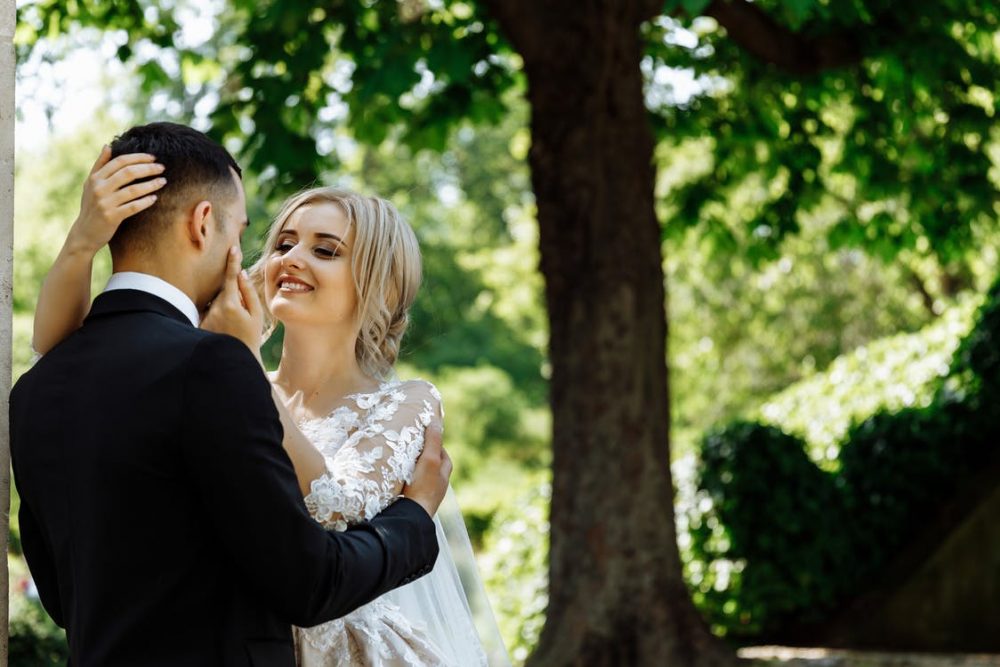 With springtime rapidly approaching, if you've been lucky enough to be invited to a spring wedding this year, you'll need to consider your outfit.
We've joined up with retailer of luxury women's straight jeans, Trilogy Stores, to find out how to put together the best spring 2019 wedding outfit for men and women.
Spring 2019 trends to watch
First, let's take a look at the trends set to take spring this year. Many of these trends will apply to both men and women, so it's worth taking a look at these first:
Coral colours — Pantone's Colour of the Year 2019 is 'Living Coral', so expect to see this warm, pastel hue cropping up in fashion and in wedding trends throughout the year. It's certainly going to see its moment during the springtime, with its blossom-evoking undertones. Think coral-coloured ties to add a splash of colour, or coral shawls to cover-up against the cold.
Minimalism — After chasing highly-embellished dresses, wedding trends are set to cool down to a more sleek, minimal look thanks to the Meghan Markle effect. Guests can take note of this too, and embrace the 'less is more' mentality for their outfits.
Eco-friendly themes — Sure, the idea of florals for spring brings the cutting tone of Meryl Streep's Miranda Priestly to mind, but florals will certainly fit the eco-friendly theme set to take hold of weddings across the country. Couple this with some eco-friendly shopping and the minimalism trend and you'll have crisp, smooth look without fiddly synthetic embellishments.
Outfits for women
These trends offer great building blocks for a wedding guest outfit. Florals, as mentioned, are a tried-and-true essential for spring. You can opt for large or small floral prints; both are absolutely on-trend, and it's just down to preference. Add in a little pastel pizzazz too! Opt for floral prints that use a shade close to the 'Living Coral' shade that's set the theme of 2019 to make an effortless nod to the current trend. You can use this for dresses, skirts, shirts, or even as an accent with a coral-coloured accessory, like a thick bangle or coral-gemstone earrings.
Don't make yourself uncomfortable though; pick items you enjoy wearing. If you're not a fan of dresses, an elegant jumpsuit can look so sophisticated, and it's set to be a big trend at weddings throughout 2019. Wedding Wire are calling it a 'fashion-forward style' for guests, and the best part is that they can be dressed up or down to adapt to pretty much any dress code! When picking a jumpsuit, keep the shape simple and avoid too many embellishments for a really streamlined look. There's also the catwalk-hot trend of coloured tailoring — that is, two-pieces sticking to one colour, in loose and light materials ready for spring. Nod to Pantone's Colour of the Year with a pastel two-piece and you'll have yourself the perfect spring wedding outfit.
A smart skirt and floral wrap top is a fantastic, easy-to-wear option. Keep your shirt looking formal with a pick from designers such as Rixo Clothing matched with a sophisticated pencil skirt.
For footwear options, you might want to walk with the Instagram trend of square-toed shoes. In particular, square-toed satin flats are having their moment on the catwalk and on social media, and they make a great addition to your springtime wedding outfit.
Time for the finishing touches. You can make any outfit look elegantly and effortlessly put together with a matching bag and shoes combo. Pick a colour, material, pattern, or all of the above and blend them through a pair of women's court shoes and bag to really tie up your outfit nicely.
Outfits for men
The casual tone of recent years is going to be dialled back sharply this year, says Brides Magazine. That means a much more tailored look, and absolutely no to jeans and t-shirts, even if it's a 'casual' dress code! Of course, as a guest, you don't need to match the groom's three-piece suit, but it can be a good option for layering. Spring can be a tricky one to predict, and a three-piece suit will let you add or remove layers as needed without compromising your look.
A high-quality men's white shirt will keep you looking great from start to finish. Avoid a white jacket though, as you don't want to be seen as trying to outshine the groom! Instead, opt for a light blue jacket to bring out the spring feeling. If you want to make sure your outfit is catwalk-approved, pick a double-breasted jacket — it's set to be all the rage in spring this year, with the likes of Louis Vuitton and Burberry both showcasing their versions on the runways recently.
Should the sun make an appearance, you still can't crack out the sandals. If you really hate to wear dress shoes, a smart pair of black chukka boots can fare well. They are also light enough to keep you comfortable if the sun comes out.
To add a few trends into your outfit, consider accessories. A pastel-coral tie or pocket square can certainly pop for a springtime feeling. If you're attending with a partner, this can be a cute way to match up without looking cheesy if you both have an accessory with the same colour on.
Minimalist and sleek is what it's all about this spring. Keep this in mind when planning your outfit to any spring wedding and you can't go wrong!
Sources:
https://www.bridesmagazine.co.uk/gallery/2019-wedding-trends
https://theblacktux.com/blog/wedding-attire-for-men/
https://www.edharry.com/tips-tricks-on-what-to-wear-to-a-wedding-for-men
https://www.weddingwire.com/wedding-ideas/wedding-fashion-trends
https://www.pantone.com/color-intelligence/color-of-the-year/color-of-the-year-2019
https://www.weddingideasmag.com/mens-seasonal-wedding-guest-fashion/
https://www.elle.com/uk/fashion/trends/a40085/7-fashion-trends/
https://www.goodhousekeeping.com/uk/fashion-beauty/style-advice/a25626752/spring-fashion/
https://www.vogue.fr/vogue-hommes/fashion/story/mens-fashion-22-top-trends-for-spring-summer-2019/4065