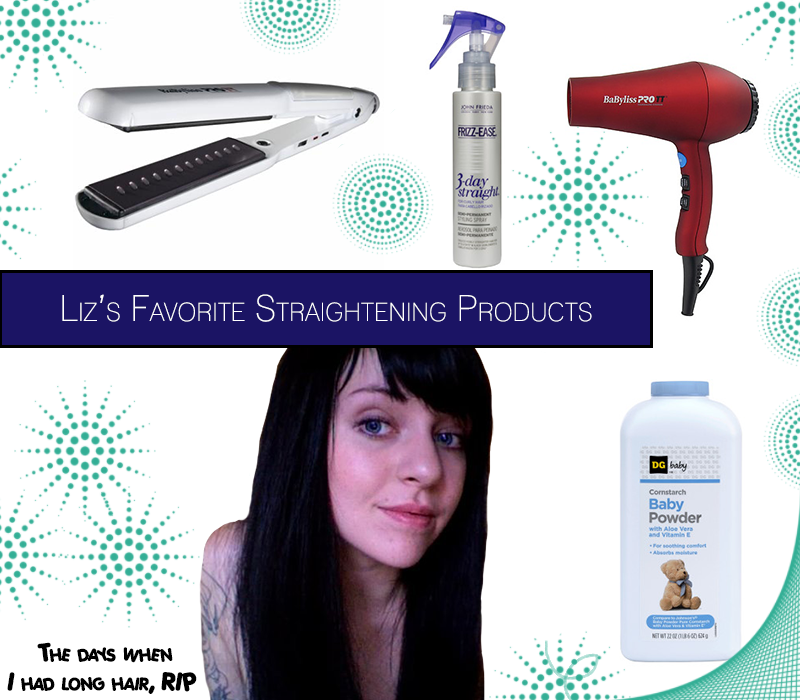 Ok, before we begin, I just want to say that I am in no way an expert, and not jocking any brand–this is all personal experience from someone with brush-breakingly thick curly hair who often wants the opposite type hair. I definitely do not flat iron that much these days, and when I do I make that ish last for DAYS.
So here it is, the best straightening products, thus far:
This is also my routine, not featured: a barrel brush, comb, cold glass of water to keep me from heat exhaustion.
John Frieda 3-Day Straight Spray
I'll kick this off with a product review: this little guy has been pretty helpful in keeping my hair straight, and silky. I realized I liked this stuff a lot when the last 1/4 of the product leaked out somehow, and I was left to my own devices (aka digging up the old bed head products out of a dark closet). Simply spray it a few times on your wet/damp hair, not a lot, then blow it out, and flat iron it. The John Frieda 3-day straight spray is a nice, lightweight de-frizzer and straightener, likely from it's key ingredient, keratin! Anyway, it's like $8, and lasts for a good few months, a whole lot of bang for the buck.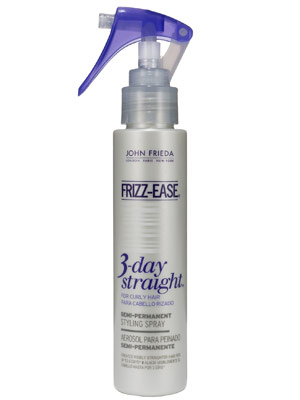 Better than: Chi Straight Guard ($15), Bed Head Control Freak ($17), Straight Sexy Hair Spray/Balm ($16/ea)
Babyliss BABTT5585 Tourmaline Titanium 3000 Dryer
I've been using my cheapo conair dryer since I started college, and I was getting super frustrated with the time I'd have to spend in my stuffy bathroom having my fuzzed out hair get stuck on my sweaty forehead. So I took a leap of faith in buying the Babyliss Tourmaline Titanium 3000 Blowdryer off Amazon. I read some solid reviews, and I was pretty damn happy with my Babyliss flat iron, so I ordered the red $50 dryer. I don't have a whole lot of know how about hairdryers, since I rocked the air-dry curls for the majority of my life, but I do know that this thing is light weight and gets nice and toasty pretty fast. I don't think the Babyliss is necessarily that "quiet" as people online might say–I think it's pretty standard, but what do I know. Three temperature settings, and two speeds, and again, like my qualm with my straightener: the buttons are right where you put your hand! All in all though, I think it has definitely cut down the time it takes to get my hair ready for the flat iron.
Babyliss tourmaline titanium steam straightener review
Before I ever went through and got the keratin treatment to smooth out my unruly curls, I invested in a new flat iron: the Babyliss tourmaline titanium steam straightener. The temperature goes up to 465 degrees Fahrenheit and uses natural ions.  You can adjust the level of steam, too, which is good for touch ups. Let's get to the pros and cons:
Pros
Gets hot FAST, really fast.
I got it cheaper than a chi
I seem to get fewer split ends from using the steam
My hair doesn't feel so "fried" after using this
It boasts that straight hair lasts 30% longer, I'd say that's fairly accurate
It comes with a three year guarantee and a nice little rubber mat to rest it on
Cons
My hair feels a bit frizzy after I use the steam setting
The power off button is right by where you hold the iron, making it kind of annoying
You have to wipe it down often; otherwise the steam holes get blocked up and have the tendency to spit out hot water which can hurt.
It smells kind of weird if you put any straightening product in your hair before you iron
Kind of heavy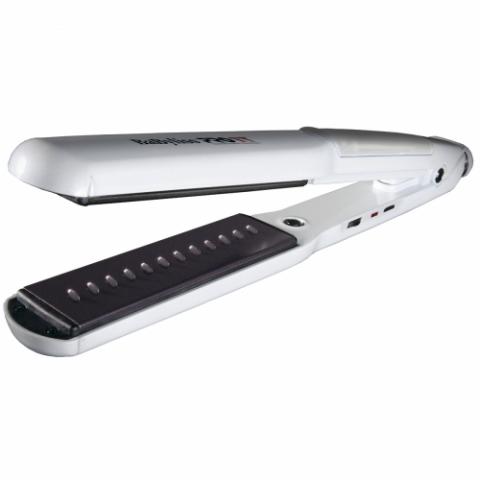 I've been using this thing for almost exactly a year now, and I have to say I do prefer this to my Hot Tools, or Chi I've had previously.
Baby Powder
Yes, it's like a dollar for a pound for this crap but when my bangs or roots start to get greasy looking, or my hair gets all stringy and I'm too lazy to re-do it, baby powder (or cornstarch) rules. Now, I've tried dry shampoo, and it was probably better–but not by much, plus it was so expensive and gone within a few uses. So I just stick my head over my bathtub and rub baby powder in my dyed black hair to make it look nice, and I can also see what I will look like with grey hair, zoinks! Seriously, it disappears with a little coaxing, and makes your hair look all matte and nice for a good while. A+ Yeah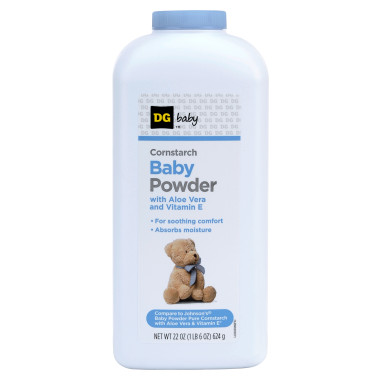 Have a favorite product? Do tell…