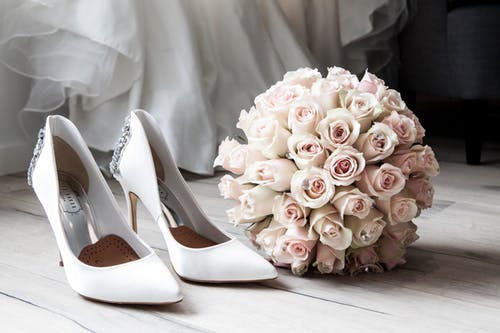 Picking out items for your pre-wedding shopping list can seem like a tough task – you might already have your eye on something from one of your favourite celebrity weddings. Although you may not have the budget to replicate the wedding looks of the rich and famous, you shouldn't lose hope! There has been a significant rise in wedding dupes in recent years, and many retailers offer replicas of iconic pieces at a more affordable price. Angelic Diamonds have assembled this list of the top star-studded wedding replicas to make your day extra special!
Kim Kardashian-West and Kanye West — flower wall
Want your wedding pics to be Instagram famous? A statement backdrop could be the way to go, taking some inspiration from the music mogul Kanye West and businesswoman Kim Kardashian West. The couple marked their first moments of married life by posing in front of a decadent wall of flowers, and the delicate toned blooms added to the ethereal ambience of their special day. While not all of us can stretch our budgets enough to accommodate such aggrandized features, there's a few alternative ways to recreate this, and it will look just as gorgeous in your pictures. Consider adding some flower lined arches, or look at lining the walls of your venue with some paper flower creations, for a quirkier, less pricy option. Many wedding venues in Cumbria and the Lake District come with a spectacular natural back-drop already, so if you don't have the budget for a flower call, you could consider holding your wedding in an area of natural beauty to produce similar effects.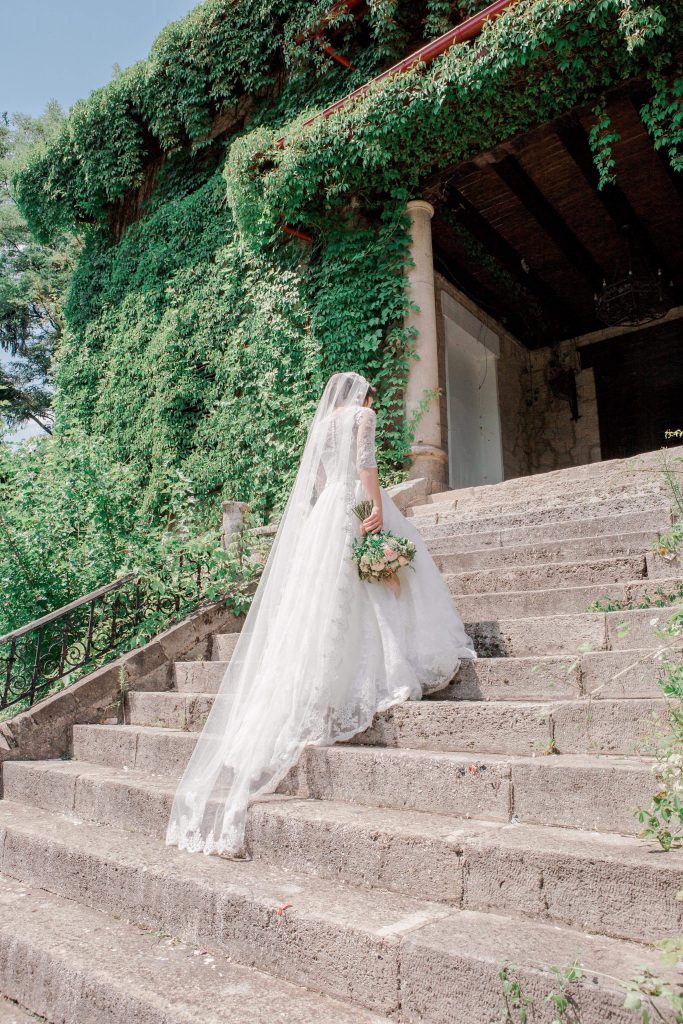 Meghan Markle and Prince Harry — evening dress
We all enjoy a good royal wedding, so we're taking a look at what Meghan wore when she tied the knot – but it's actually her second gown that really caught our attention. Meghan changed in to an uber chic halter neck dress designed by Stella McCartney, a fitted floor length piece fit for the radiant princess. Shortly afterwards, the ecommerce fashion retailer ASOS unveiled a dress which captures the same understated elegance, with a more payday friendly price tag of £120. Surprisingly, the actual dress is available to buy online, a rarity when it comes to garments designed for an event with the gravity of a royal wedding; but if the £3,500 checkout total is over budget, then rest assured that you'll find some dupes which are outstandingly close to the real deal.
Kaley Cuoco and Ryan Sweeting — chandelier tiers
This quirky creation may not be such a good idea if you've invited children to your wedding, but Kayley Cuoco's wedding cake was a sight to behold. The tiers were assembled upside down, finished with an extravagant chandelier suspended on top. While most bakers might not want to brave such a daring design, The Butter End Cakery took Kayley's cake dreams and made them into a reality. Want to give your own wedding cake an a-list makeover? Ask your baker to let their creativity run wild with suspended tiers which can wrap around your wedding cake, adding a unique touch.
Beyonce Knowles and Shawn Carter (Jay-Z) — engagement ring
Back in 2007, Jay-Z finally took the hint and 'put a ring on it' – and he certainly picked a showstopper! Not every man would feel comfortable heading into the jewellers and finding the perfect engagement ring for their partner, but Jay-Z picked a stunning Lorraine Schwartz 18 carat platinum ring with a price tag of $5 million. If you're looking to convey the same luxury look for a split shank band, and in terms of style emerald cut, diamond engagement rings are the best bet.
If you've got your eyes on something that you've spotted in a glossy magazine or on your favourite celebrities Instagram feed, then it's worthwhile shopping around because more often than not, you'll find a brilliant dupe!