There really is no need to splash the cash, spending a fortune on boutique hotels or health retreats, when you can enjoy all the benefits of a spa without venturing beyond your front door.
Modern life is hectic and there's no getting away from the fact that we spend much of our time commuting, stuck in traffic or waiting for that train or bus to turn up. Therefore, those precious few moments we get to ourselves can feel very rare indeed. That's why many of us are turning to our bathrooms as a place of sanctuary, transforming it into a relaxing space in which we can unwind, relax and let the cares of the world wash over us.
If you're looking into home spa bathroom suites, what do you need to consider? Check out these 5 tips before you begin.
Be inspired
There's a reason why many of the world's top hotels spend vast amounts of cash on top interior designers. It's so they can boast bathrooms which look absolutely stunning. Before buying for your bathroom, do your research. Check out hotel bathrooms on sites like Pinterest and Instagram, browse home interiors magazines or check out bathroom ideas from bathroom retailers like Victoria Plum. You'll discover loads of incredible designs and styles, which will help you narrow down your choices.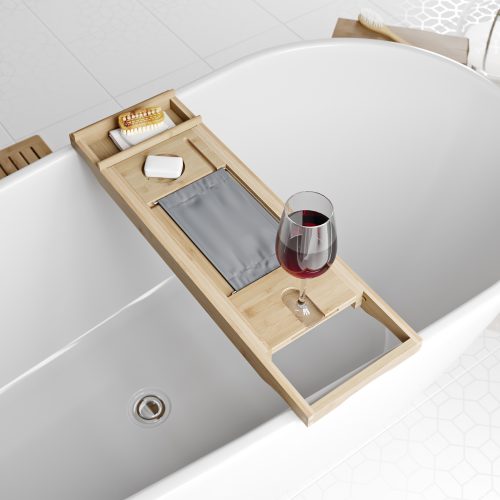 Choose luxury bathing
The centrepiece of any spa bathroom worth its salt is the bath. This is where you'll be spending most of your time, so you need to choose a tub that is large enough and comfortable enough for your needs.
These days, the freestanding bath is making a real comeback, with many homeowners ripping out the regular straight bath and bringing the tub into the heart of the room. As long as you have the space, this should be fairly straightforward, although you can find space-saving back to wall designs which combine all the elegance of a classic roll top bath with the shape of a straight bath.
A freestanding bath will help to set the scene, providing the ultimate in relaxing spaces.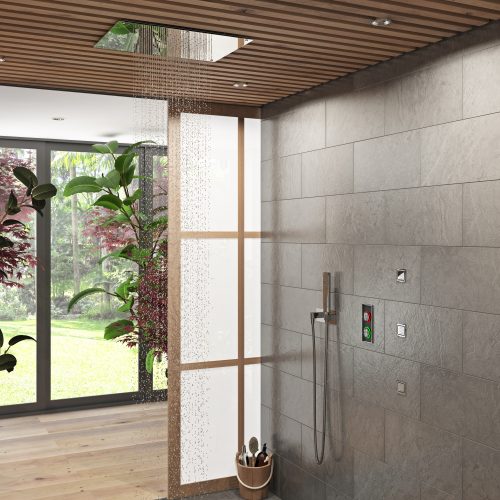 Wash away those cares
Your spa bathroom should be extra-special in every little detail, which is why a pedestal basin is a no-no. Choose a countertop basin installation for added style. When combined with a vanity unit, this will provide extra storage space for all those lotions and potions, helping to keep your space (and mind!) clutter-free. A waterfall style mixer tap will add a touch of Zen to proceedings, as the water cascades gently into your basin.
Make your spa work smarter
Leading a healthier life has, in recent years, come into sharp focus. With the rise in smart tech and smart homes, we are all now more aware of the health benefits that technology can bring. So, why not consider using smart technology to control your spa experience?
With the latest smart bathroom systems, you could use your phone to fill your bath, so it's ready the minute you walk through the door. This will add precious minutes to your relaxation time, whilst taking the guesswork out of getting the temperature and depth right. Smart showering systems can be connected up to popular smart home systems like Amazon Alexa, so you could say "Alexa. Start my shower", from the warmth of your bed in the morning.
And it's not just smart showering systems which you can benefit from—underfloor heating is getting smarter too, allowing you to easily control ambient temperature. Plus, with no bulky radiators, your spa bathroom can look minimalist and stylish.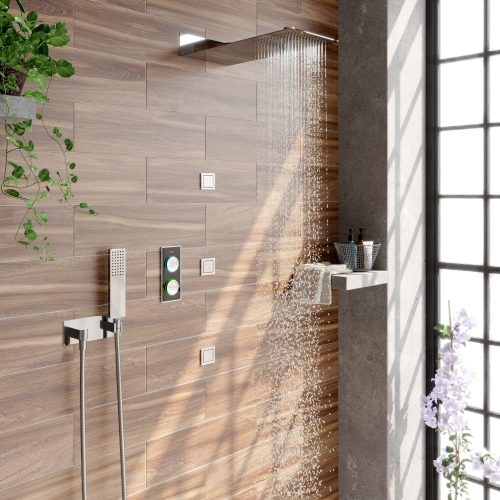 Illumination is the key
The way you light your spa bathroom can have a real bearing on the overall look and feel of your space. During daylight hours, an abundance of natural light can help you feel at one with nature, although privacy concerns can mean large, clear windows simply aren't practical. Consider skylights or larger windows with frosted glass to make the most of those sunny days.
During the winter months, you can set the right mood using ambient lighting in the form of an LED mirror or even those old favourites: candles.
With us Brits spending £7.6 billion on spa treatments, isn't it time you saved some cash? Follow these 5 quick tips for a spa-like bathroom in which you'll spend many, many relaxing hours.