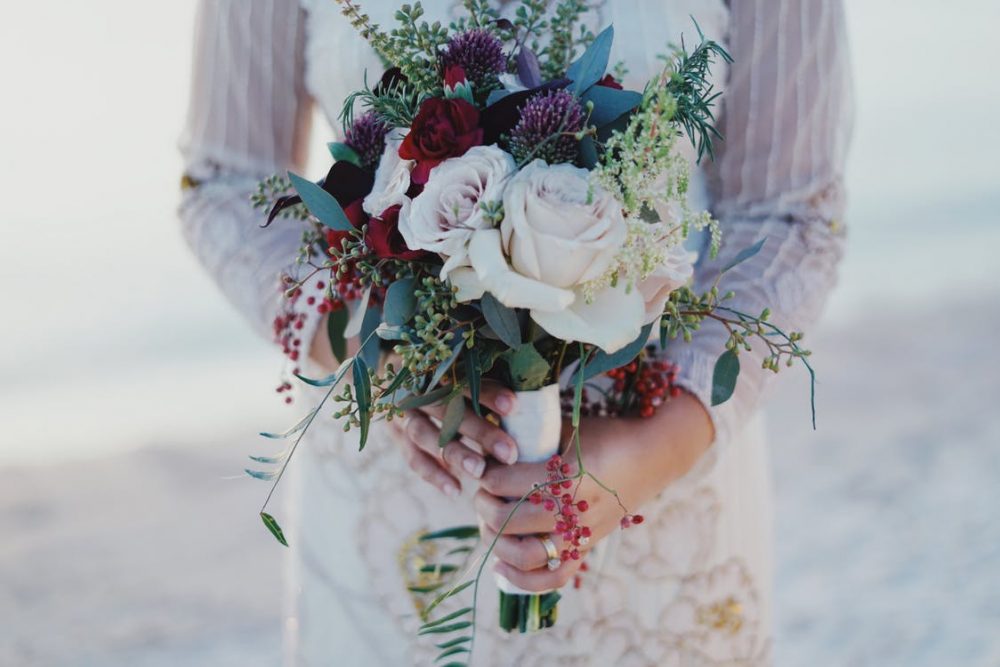 Fall and Winter 2018 are fast approaching. If you're planning your wedding for the upcoming season, you need to know about the trendiest color palettes this year. Picking a color palette is an essential part of planning the overall theme and style of your wedding.
The colors you use in your ceremony will also influence your choices for your bridesmaids' dresses, groomsmen's outfits and many other elements. You may even want to coordinate your own gown and the groom's attire with the color scheme of the wedding. Therefore, it's imperative that you choose a color palette that's on-trend this year. To help you get started, we got some advice from JJsHouse designer, Jessica, who has a wealth of knowledge about the latest fall and winter 2018 wedding color trends.
Color Trends for Fall 2018
Fall is the perfect season to plan a rustic or vintage-style wedding, which are both very on-trend this year. There are so many excellent color palettes to choose from for such wedding styles, and many of them work well for more formal or modern ceremonies as well. Any of these on-trend color palettes for fall can be used for various wedding styles, both indoors and out.
Rust, Copper and Aqua: This rustic color combination is ideal for vintage fall weddings.
Gray and Sage: If you're planning an earthy outdoor wedding, this is the trendiest color combo for you.
Chocolate, Mocha and Cream: This rich color palette works wonders for rustic, vintage or modern ceremonies and can be used equally as well indoors as it can outside.
Cantaloupe, Honeydew and Pistachio: This sweet color combination is the epitome of rustic fall.
Light Olive, Tangerine and Aubergine: Use this color palette for a fall garden wedding that's right out of a classy, classic fairy tale.
Navy, Olive and Peach: This color palette exudes elegance for a rustic outdoor wedding.
Color Trends for Winter 2018
Wedding dresses for winter needs to be elegant, somber and chic, and this year's color trends for winter match the season's aesthetic perfectly. Whether you're planning your winter ceremony somewhere where it's warm enough to be outdoors or are putting together a formal indoor ceremony, these on-trend color palettes are sure to inspire.
Bronze, Forest Green and Black: For an earthy, yet classy vintage winter ceremony, use this trendy combination of colors.
Champagne and Bordeaux: This color palette is timeless and elegant. It's the ideal combo for a classy indoor winter wedding.
Dusty Slate Blue and Beige: This cool color combination captures the essence of the winter season in a perfectly ethereal balance.
Blush, Navy and Gold: If you're looking for a classic color palette for a cool winter wedding, this is definitely the choice for you.
Black, White and Gold: There aren't many color palettes more chic and timeless than black, white and gold.
Maroon and Apple Green: If you want to plan a bolder, brighter winter ceremony, this on-trend palette offers colorful bursts of fun.
No matter which palette strikes your fancy, these 2018 color trends are all chic, soft and romantic. Add in some lush greenery, colorful florals and classic metallics to create an elegant overall look with any of the color palettes mentioned above.