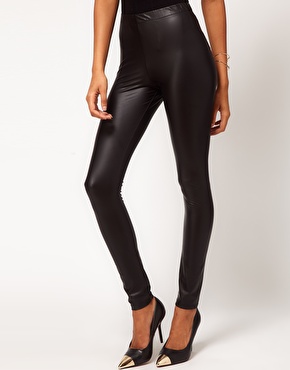 Leather reminiscent leggings have been popping up everywhere and they are HOT. From the more demure rubbery matte shine to the high gloss patent leather look, it's all about these glossy stretch pants.
Feel free to let your inner 80's hair metal  shine though in these bad boys. You'll be sure to have a ballad written after you when you show up in a bustier and a leather jacket.
If you're not feeling so brazen, opt for a black tunic or sweater over these pants. It's also a nice everyday look that won't get you a Sandra Dee in Grease reaction every time you  walk down the street.