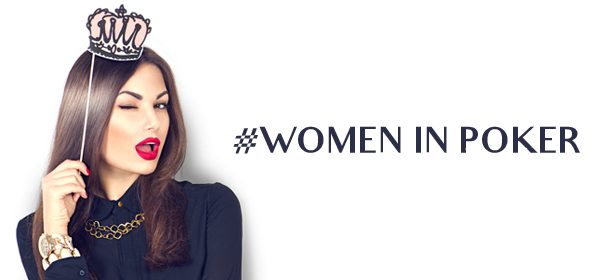 Poker has a reputation of a male-dominated sport. It's kind of true — while there are many spectacular female players, they are usually overshadowed by their male counterparts. But not today, because for the International Women's Day Khelo365 is going to tell all about the best and the brightest women playing poker.

1.Vanessa Selbst
Born: 1985
Active: 2006-2014 (professionally)
Total winnings: $11,000,000

We have yet to see Vanessa's game that wouldn't be spectacular. This woman's mind is a tightly wound coil — sharp, strong, always about to strike. And yet she always treats the poker as a game and has never been mean or disrespectful to her opponents. Her genuine sportsmanship and good nature won Vanessa many fans even before she started cracking World Tournaments like peanuts.

Vanessa is by far the highest-earning female poker player and the only woman to ever achieve #1 in the Global Rank. She is officially retired now — at 35 at that — but sometimes shows up on the tournaments for the old times' sake. But no WSOP, for now at least.

2.Kathy Liebert
Born: 1957
Active: 1994-current
Total winnings: $6,000,000

Kathy Liebert was Vanessa Selbst before there was a Vanessa Selbst. In many ways, the other female poker players owe a lot to Kathy, who was the first major female superpower in this sport and still holds the silver crown.

The Poker Kat, as she commonly calls herself, is still very much active and often joins the popular local tournament as well as WSOP. She is not quite as dangerous on the green as she used to be, but she can definitely keep up with the middle of the pack.
3.Annie Duke
Born: 1965
Active: 1994-2010
Total winnings: $4,000,000

Annie Duke was a poker prodigy and a serious threat to Kathy's supremacy. Unfortunately, Annie instead went off to the corporate and tried her luck at establishing an online poker platform and professional championship leagues.

The results were nary disastrous and since then the 'Duchess of Poker' has focused on the charity work and doesn't want to talk much about her gambling days. Understandable, especially since she has only barely avoided several federal charges.
4.Barbara Enright
Born: 1949
Active: 1989-current
Total winnings: $1.600.000

Barbara has chosen a slow-and-steady way to her fame — she is by far the oldest professional female player that is currently active in WSOP. And not only active — most of the time this old lady actively threatens Kathy Liebert and easily outplays the majority of the youngsters.

One can say that she is a grandma of modern female poker and in many ways, they would be right — she was the first woman to ever win the WSOP 10.000 event, and she holds three WSOP bracelets overall.

In 2005, Barbara Enright was included in the Poker Hall of Fame.
5.Victoria Coren Mitchell
Born: 1972
Active: 2001-2017
Total winnings: $2,400,000

Victoria is not a professional poker player — she is a writer, a journalist, and a presenter first. But it didn't stop her from taking two titles in the European Poker Tour in 2006 and have had an extremely prolific poker career since then.

Victoria stopped playing professionally in 2017, choosing to return to her other endeavors. Had she stayed, she would have undoubtedly become a strong candidate to the top-3 of contemporary female players.

6.Linda Johnson

Born: 1953
Active: 1982-current
Total winnings: $400,000

Linda Johnson is known as 'The First Lady of Poker' due to the numerous honors she's won during her long association with the World Poker Tour.

While she doesn't have as impressive a portfolio as Barbara Enright's, she is still a very notable figure in modern poker and remains a fairly strong player.

7.Annette Obrestad

Born: 1988
Active: 2008-2018
Total winnings: $4,000,000

Annette Obrestad is yet another poker player who had shown great talent and ambition and then chose to go out on a high note. She had won her first WSOP tournament in 2007 when she was just 18 and has been making bank ever since.

Nowadays, Annette mostly runs her YouTube channel and seems to have quietly retired — or at least taken a break. There is a possibility that she will come back at some point, but for now, she is done.

8.Jennifer Harman

Born: 1964
Active: 1994-current
Total winnings: $2,700,000

Jennifer Harman was the first woman to win two WSOP bracelets, a feat she achieved in 2002. She is considered one of the strongest players in the world, although she is commonly overshadowed by her more famous colleagues.
She recovered from a kidney transplant to become a regular competitor at the high-stakes table in the world-famous Bellagio Hotel in Las Vegas.
Keep in mind that the total winnings are provided without adjustments for inflation. For example, everything won before the year 2000 has gained at least 30% of extra value.
And there you have it – those are some of the best poker players to have played the game. Finally, we'd like to give a shout-out to all the ladies out there who are part of the Khelo365 family– specifically, we've got a message for you from Bratu Alina Maria, poker enthusiast and a veteran of the Khelo365 team:
"First of all, Happy Women's Day to all women around the world!
I've been with Khelo365 for around 5 years now, and one of the accomplishments that I'm most proud of is seeing more and more women playing poker in India. Among our users, there were many who weren't sure if they'd like it or if they should try it, but then they gave it a chance and are really enjoying themselves – which is great to see! I would like to give a shout out to all the female poker players out there who are killing it at the tables – keep up the great work and always turn a profit!"