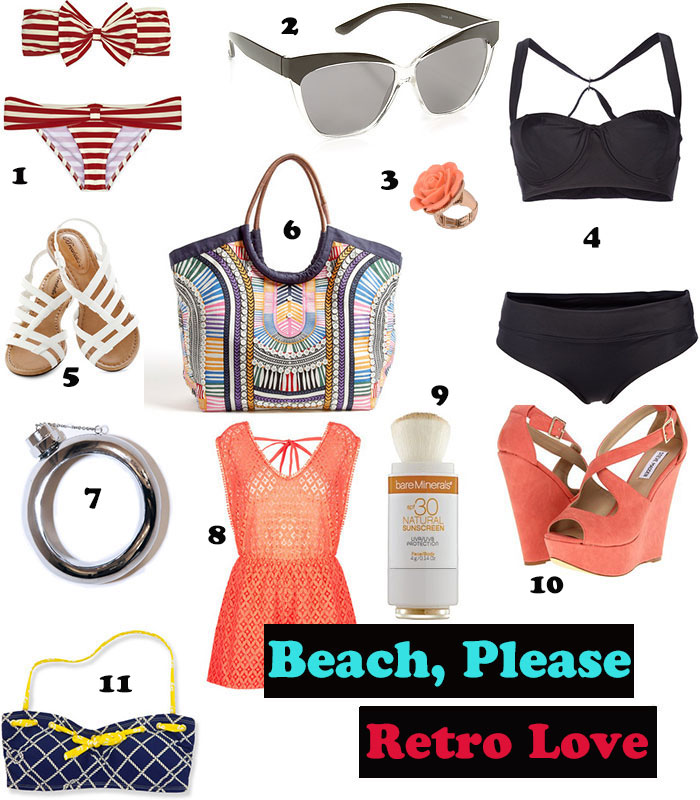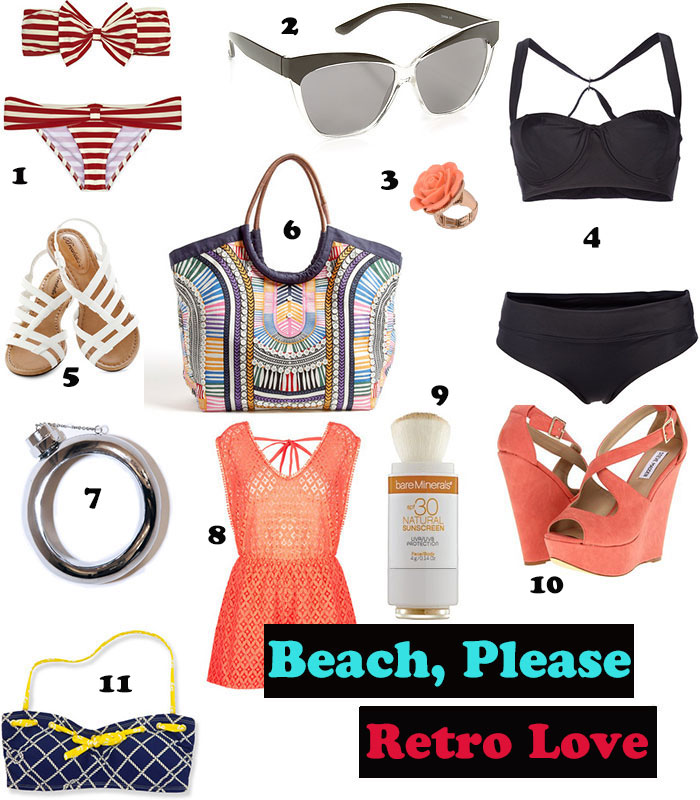 For some of us west coastians/southerners it's starting to get hot already, don't say you envy it–because many of us here are certainly not ready to deal with steering wheel burns, boob sweat, and sunglass tan. Anyway, while I can't stop the weather gods, I can at least fantasize about a new gaggle of vintage summer beach fashion finds, right?
1. ETE Swim The St. Tropez Bikini, $275. Talk about adorable, this red and white striped bikini looks straight out of a 50's pin-up zine. Definitely not for the more conservative dresser, this hot little number probably won't leave much to the imagination, oh well–SPRING BREAK!
2. Hunny Bunny glasses, $10. Apparently there is a ladies only spin-off from karmaloop called Miss KL, and these super cute retro glasses are a steal at ten bucks a pop, viva Mad Men glamour.
3. Coral Flower Resin Ring, $12. I really love coral as a summer color, it's fun without being totally in your face. There's something really adorable about this ring.
4. Chloë Sevigny for Opening Ceremony Bikini, $50-$200. Marilyn Monroe meets Marilyn Manson with Chloë's new line, check these bad boys out before they're all gone!
5. White Sand Shores Sandals, $29. I really don't like 90% of the sandals and flip flops out there, I don't much care for feet, to be honest, but these are so cute and versatile. Modcloth seems to be sold out of these right now, but they usually update their inventory when these things happen, fingers crossed!
6. Mara Hoffman Electric Casino Beach Bag, $467. Like some late 60's psychedelic acid trip, this bag is on another level. I usually shy away from lots of color but this is totally cute, and looks like a work of art in itself.
7. Cynthia Rowley Flask Bracelet, $225. A flask bangle. Try not to hyperventilate, fellow booze hounds, this bad boy hasn't even been released yet, but oh my gosh, swooooooon.
8. Topshop Tangerine Playsuit Coverup, $60. Because you don't want mom to see that t-rex stomach tattoo you thought was a good idea.
9. Bare Minerals Natural Sunscreen, $28.  Hate to break it to you folks, but regular sunscreen is full of gross and potentially harmful chemicals that can be absorbed into the skin and cause cell damage which could lead to skin cancer. So, a sunscreen could give you skin cancer–how about them apples? Go with some natural stuff, I like Bare Escentuals makeup so try this stuff out, and let me know what you think.
10. Steve Madden Xternal, $60. Peep-toe heels at their finest, you know you want to be drinking a cocktail poolside with these shoes on. Just don't get that suede wet, girlfran!
11. Sperry Top-Sider Bandeau Top, $52. Nothing like a nautical bikini and a bottle of Sailor Jerry's to make you feel  sea-ready, if you can find a captain's hat, that would also be ideal.