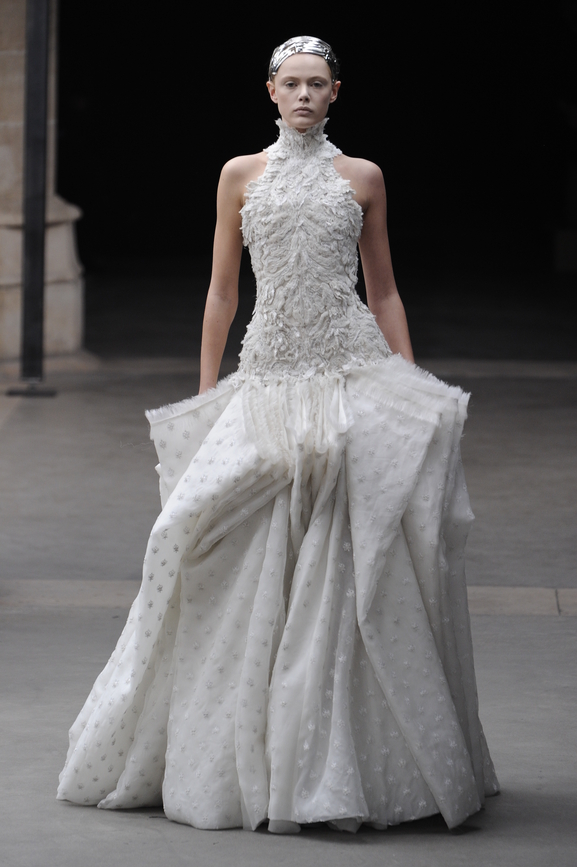 This British designer paired the whimsical with the macabre: creating a tidal wave within the fashion community and solidifying his place as one of the most influential artists of our time. Lee Alexander McQueen was born March 17, 1969 to a humble family in East London. As a boy, he quickly found himself making dresses for his sisters at a young age, and almost immediately declared he would be a fashion designer. Once he was in his teens he quickly found his way into apprenticeships with the tailors on London's Savile Row. After his experience as a tailor, he then started working with costume designers at world-famous shop, Angels, which supplied many television, theater, and film sets with pieces.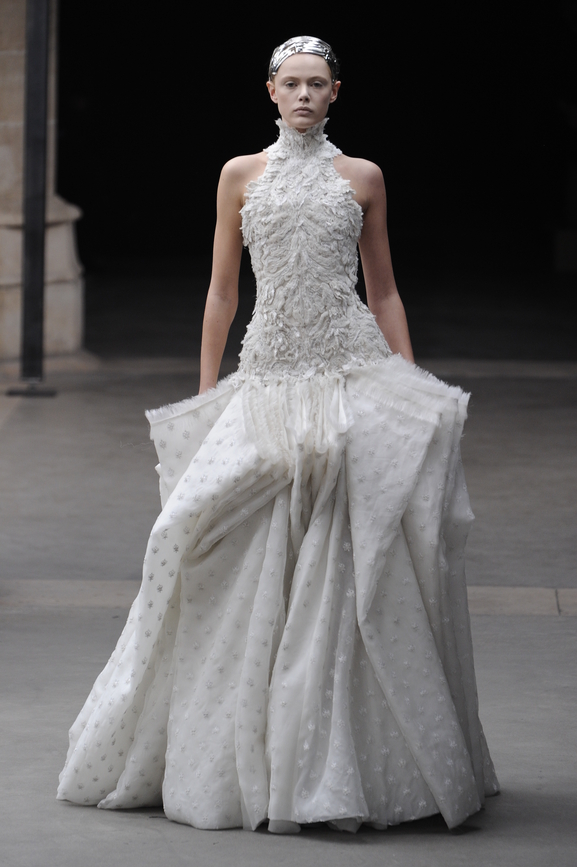 Some of McQueen's tailoring clients included Prince Charles and Mikhail Gorbachev, which garnered him quite the reputation throughout England. He was quickly persuaded by the Head of the Department at Central Saint Martins College of Art and Design to obtain a masters in fashion where he met Isabelle Blow.
Isabella inspired McQueen to pursue fashion design, and to change his name to just Alexander McQueen. After his first  jaunt in creating a line of clothing, he met Katy England, who would serve as his second-hand opinion, even helping him hone in on his signature style for many years. He also started getting attention of musicians, making David Bowie a Union Jack suit and the costume for Bjork's album cover, Homogenic.
As Alexander's popularity grew, he also encountered a great deal of controversy for his dark and shocking runway shows, some of which were entitled "McQueen's Theater of Cruelty" and "Highland Rape." It wasn't merely the setting or the name that drew in attention though, McQueen worked with great tact to create dramatic shapes and powerful silhouettes. He was then appointed to head of the House of Givenchy proceeding the now disgraced, John Galliano.
His stay with Givenchy was not a pleasant one though, as he felt his creativity was stifled,  he even stated that he found his collection to be "crap."  He later signed on with Gucci as Creative Director and was very successful until his death. In 2006, he also created his younger, more affordable line McQ, for both men and women.
McQueen quickly returned to his roots with his own collections and created some of the most prominent pieces of the late nineties and early 2000's including the "bumster" which started the trend of wearing low rise pants. He was also famous for integrating skulls and his signature scarves into each collection.
On March 11, 2010, a week after his mother had passed, Alexander McQueen was found hanging in his apartment. Friends stated that he was incredibly grief-stricken and doing a lot of drugs because of his immense depression. At the time of his death he had around 80% of his new line completed, which was shown to only very small audience in an intimate setting. Sarah Burton, his assistant  resumed Alexander's duties as Gucci's Creative Director and head of the Alexander McQueen label.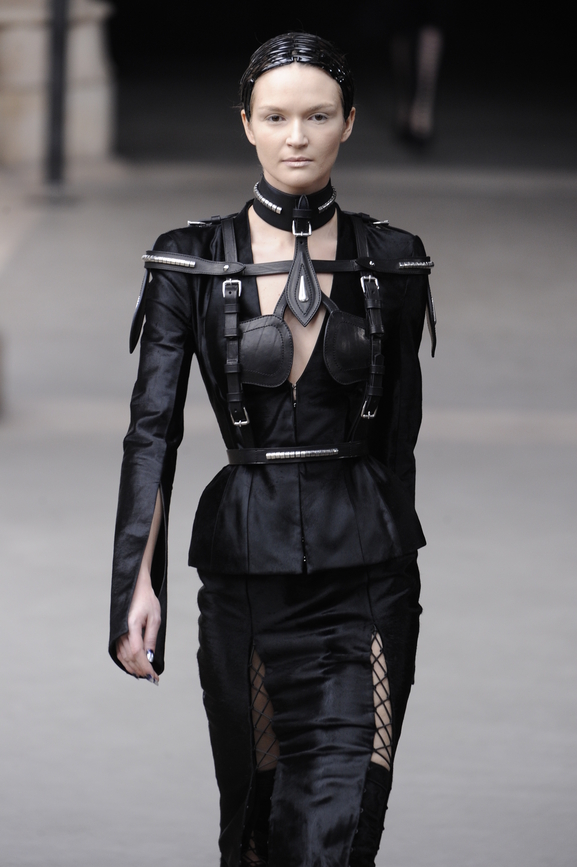 His work and life are still revered, especially in the fashion world, where he was almost the new voice of a generation. McQueen's blend of harsh themes with delicate details and extraordinary tailoring has made him one of the most important designers of all time.