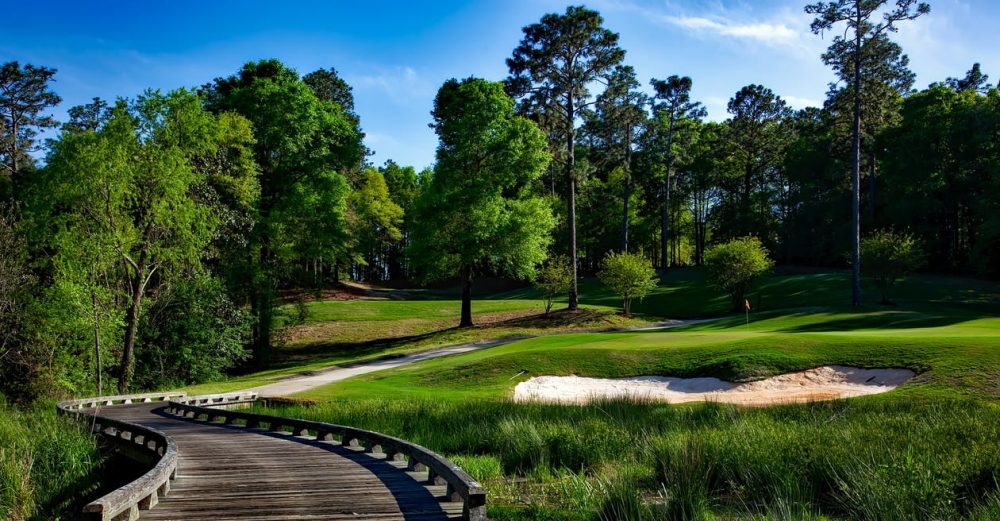 From Florida to California, golf course communities are located in some of the most luxurious areas of the United States. If you're an avid golfer, your dream might be to purchase a home in a golf course community.
Before you sign a contract on a home that's located in a golf course community, you should carefully consider if this real estate transaction make sense for you. Here are the benefits and potential drawbacks of residing in a golf course community.
Benefits of Living in a Golf Course Community
1. The golf course is located within walking distance from your home. Instead of loading up your vehicle to drive to a faraway golf course, you can just step out of your front door and onto the golf greens. Living near a golf course provides you with the opportunity to play golf every day – weather permitting.
2. You'll own a home with a gorgeous view.
There is no shortage of beautiful scenery in a golf course community. You'll live close to ponds, fountains, lakes and rolling greens.
3. Golf course communities offer tons of privacy.
In many golf communities, the homes are situated on sizable lots. Living a good distance from your neighbors can help you maintain your privacy.
Potential Drawbacks of Living in Golf Course Community
1. Stray balls can cause property damage.
Accidents happen. This is especially true if your home is close to the golf course. Golf balls can cause injuries and damage home and car windows.
2. Harmful chemicals are used to maintain the golf course.
Grooming the greens of a golf course requires the use of a great deal of pesticides, weed killers and lawn fertilizers. Unfortunately, these products contain chemicals that can wreak havoc on your health.
It's essential that you get details about the upkeep of the golf course. You should ask questions about the type of chemicals that are used and the maintenance schedule.
3. The Home Owners Association (HOA) in a golf community can be restrictive and expensive.
It costs a lot of money to maintain a golf course community. As a resident of this type of community, you can expect to spend hundreds (or thousands) of dollars for HOA fees a month.
In addition to the fees, having an HOA can limit your autonomy. Depending on your HOA rules and guidelines, you may be required to get permission to paint your house a certain color, build a deck, install a swimming pool and invite golf guests. In addition, they may require you to ensure your property is well maintained and presented, such as mowing the grass, trimming your trees, cleaning your roof and gutters, pressure washing the home exterior, ect. This can be time-consuming to do on your own and many people in HOAs get companies like Clean Pro Gutter Cleaning Atlantic City to take care of exterior maintenance for them. So be sure what you're getting into before you sign the papers.
You also have to consider if the course you'll be living on has a management company. While you may get lucky and have a company like Hampton.golf running your course, not all golf course management companies are the same. Again, do your research before you sign.
Purchasing a home near a neighborhood golf course offers several perks and disadvantages. Carefully consider them before you purchase a home in a golf community.