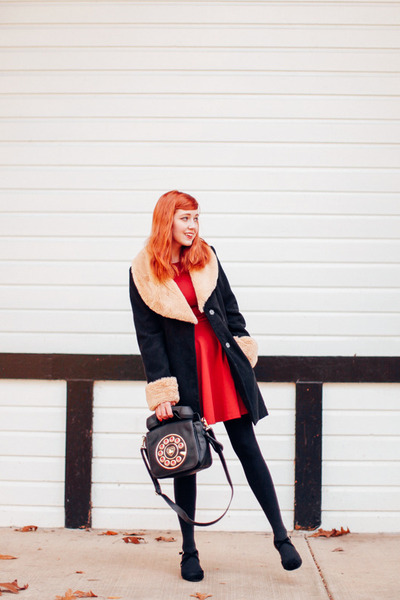 While in your bedroom you may be snuggled up in double XL hoodies and fuzzy socks, that doesn't mean your wardrobe has to hibernate too. Here are some of my favorite winter looks so far:
I love this skirt so much, especially paired with those fun magenta heels. Just add a peacoat and you're set for holiday parties or world domination.
She is wearing:
Hot Pink Miu Miu Bag
Black Siren London Top
 // buy at www.sirenlondon.com
Black Varrie Skirt
// buy at www.varrie.com
Magenta Christian Louboutin Heels
This is another drool-worthy skirt found on chictopia, while that wouldn't look good on my body type, I think taller ladies will really appreciate the coverage yet sexiness of this skirt. Did we mention her overall look is just incredible too? I bet she speaks French and has a lot of important secrets about the government in her head.
Normally I stick boring colors, but the bursts of baby blue I've seen this winter make me smitten with the color. I think of Elvis, the Supremes, and the 50s in general–especially this look with the oxfords and ankle pants. Menswear just always looks super chic no matter what.
Now THAT'S a scarf…Love these over the knee boots, it really makes brings this 60s ye-ye look into 2015. The blue jacket is actually from Forever 21, now I have my problems with that store, but you got to admit it looks good.
This woman reminds me of Eternal Sunshine of the Spotless Mind, do you see the slight resemblance? Check out that Betsey Johnson telephone bag, isn't that just adorable? I would have rocked that so hard in high school. I just generally am in love with the skater dress paired with tights and a coat look.