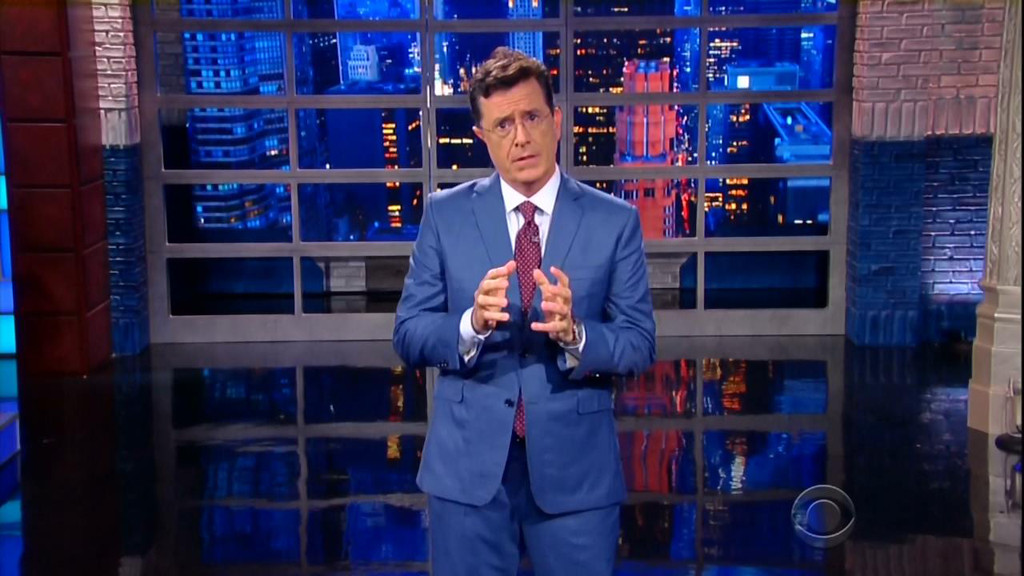 I have to admit that I was a little weary of Stephen Colbert taking over The Late Show. I am a big fan of Colbert and loved The Colbert Report. So I was afraid Colbert would change his ways, but I am happy to see that he is the same Stephen Colbert we all know and love.
Over 6.6 million viewers tuned into the debut of The Late Show with Stephen Colbert. David Letterman was the host of the show from 1993-2015 and made the show a huge success. I was never really a fan of Letterman or the show so again, I was scared to see what would happen with Colbert as host.
But because of Colbert, I am now a viewer of The Late Show. He had George Clooney and Jeb Bush on the show and Colbert did a phenomenal job. I think he is going to get the celebrities to loosen up and have more fun. Colbert already proved that with his funny scene with Clooney and he was able to have a laid back conversation with Jeb.
Of course Colbert had to talk about politics, which is one of the many things I love about the comedian. He took a lot of jabs at Donald Trump and it was absolutely hilarious. Colbert even had a really funny scene with late night host competitor Jimmy Fallon.
I was really surprised to see Colbert so relaxed. He didn't seem nervous or anything like that. I was very impressed with how the first show turned out and I am so thankful that it is going to be just as good as The Colbert Report. It is nice to see the show change to a different format. But I have to say that I do NOT like the opening. Hopefully that is something that can change sooner rather than later.
I did read that some viewers said Colbert did a great job, but needs to relax more. I thought he was pretty relaxed, just had a lot of energy, which made the show more fun. Most late shows are full of boring humor and Colbert is different. I am so excited to see what happens next on The Late Show with Stephen Colbert.
Feature image courtesy of eonline.com.