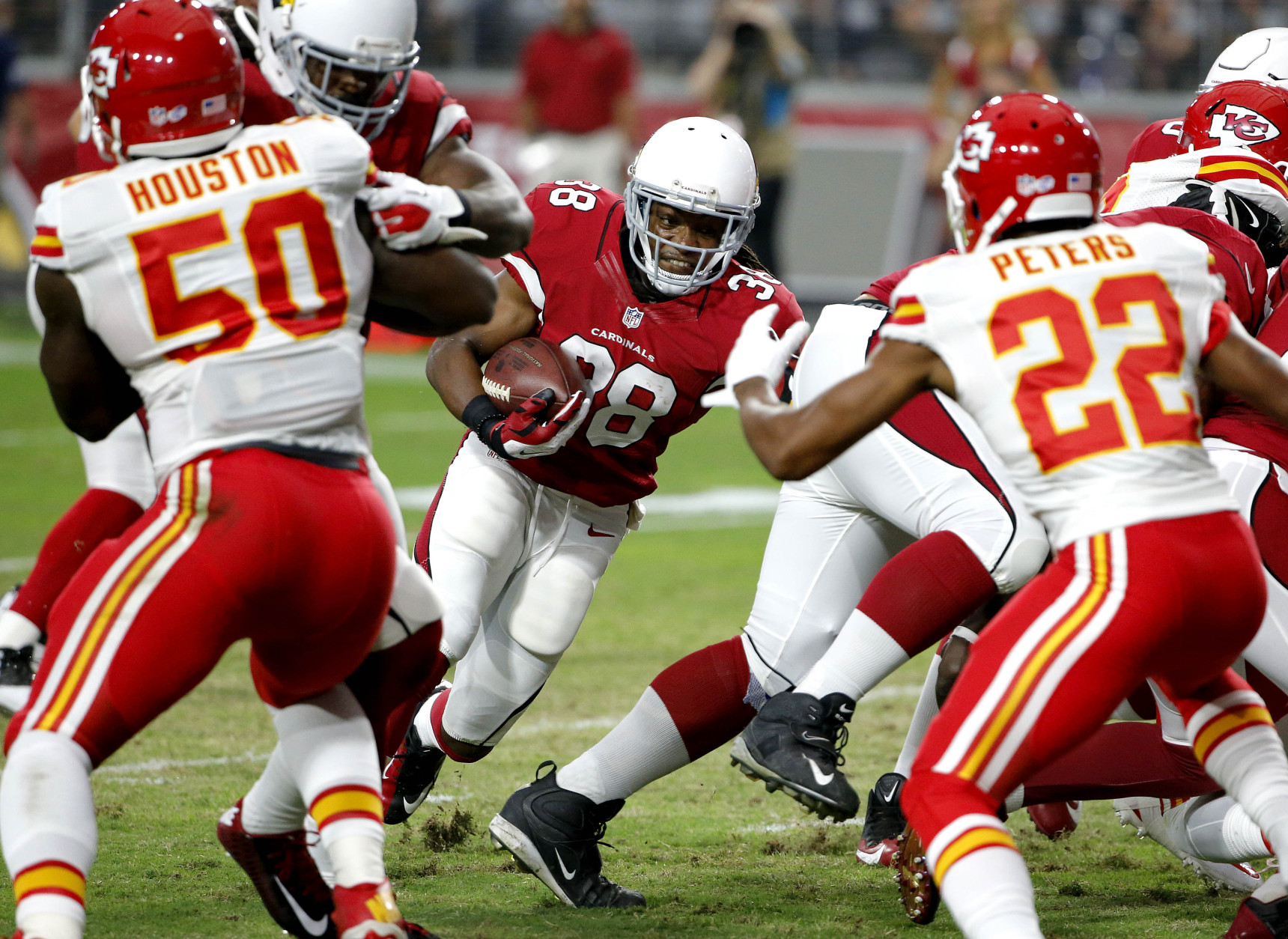 I love football. My Sundays are just not complete without a whole day of football on the television. Preseason just kicked off last week and I was lucky enough to go to the Kansas City Chiefs and Arizona Cardinals 1st preseason game on Saturday. I happen to be both a huge Chiefs and Cardinals fan. (Hey, they are in different conferences, so it is ok) I had an absolute blast, but more importantly it gave us a look at what is in store for us this football season.
The best part of the game on Saturday was the return of Eric Berry. The Chiefs player was diagnosed with Hodgkin's lymphoma back in November. It was great to see him back on the field. He had an emotional game and his mom was even there to cheer him on.
Jamaal Charles was only on the field for like 2 plays for the Chiefs, but I think that was a smart move since he battled some injuries last season. Speaking of injuries, Carson Palmer looked good after he suffered from an injury last November that made him miss the rest of the season. Palmer played for about half of the 1st quarter and went 4 for 4.
The preseason games started on Thursday and there were a lot of interesting matchups. I was happy to see the Green Bay Packers beat the New England Patriots. I was also thrilled to see former Arizona State University Sun Devil Jaelen Strong get a touchdown in his first game on the Houston Texans. I am a proud Sun Devil Alumni so I love seeing other Sun Devils succeed. The Texans went on to beat the San Francisco 49ers.
It is just preseason, so there is a lot of football left and it is hard to judge based on these games, but it does give us an idea what players might shine this year. Usually in preseason games, the starters play the 1st quarter, the 2nd string team plays the 2nd and start of the 3rd quarter and the rest of the players finish out the game. It is cool to see all the players get a chance to play on the field. So really the game is just for fun, but it gives the players a chance to play together and try to get a groove before the season really starts. It also gives the rookies a chance to hit the field and play for the first time with the big boys.
Which NFL teams do you cheer for?
Feature image courtesy of AP Photo/Ross D. Franklin.