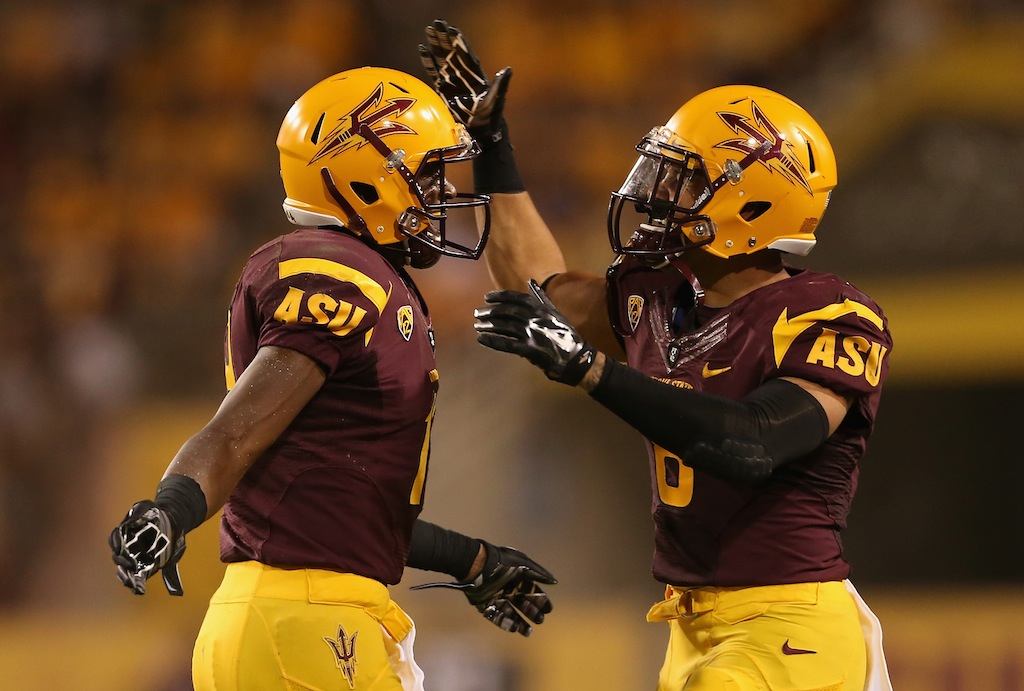 I graduated from Arizona State University in 2009 and I still consider myself a Sun Devil. Each year I have seen the ASU football team get better and better. They have suffered some tough losses in the last couple of years, but this year may be their year to be on top.
With the Oregon Ducks losing their best offensive players, ASU has a chance of having the best offense in the Pac-12. Mike Bercovici will be the starting quarterback and he showed his talent last year with an incredible season. Plus, Bercovici will have a strong and talented group of freshman behind him. I am glad to see Todd Graham back as head coach. Since he started coaching the Devils, they have really been an impressive football team
The Devils kick off the season in Texas against the Texas A&M Aggies and it looks like it could be another great year for the Devils. They finished last season with a record of 10-3 and had a heartbreaking loss against The University of Arizona Wildcats for a chance to go to the Rose Bowl. ASU has dominated the Wildcats in recent years, but last year they suffered a really tough loss. This year will be different. The rivalry game is in Tempe this year and I know that the Devils will cream the Wildcats.
And who could forget the amazing Hail Mary last year that put the Devils on top of USC. That was one of the best games last season and this year's match-up against the Trojans is going to be just as good. The USC Trojans are going to have a strong team this year, maybe one of their best teams in recent years. Luckily the Devils play the Trojans at home this year and they are going to come out fighting from the start.
I am so excited for the season to start. I have heard some predictions that say the Sun Devils have a really good of chance of not only winning the conference championship, but also the national championship. That is really expecting a lot of the Devils, but a girl can dream, right?