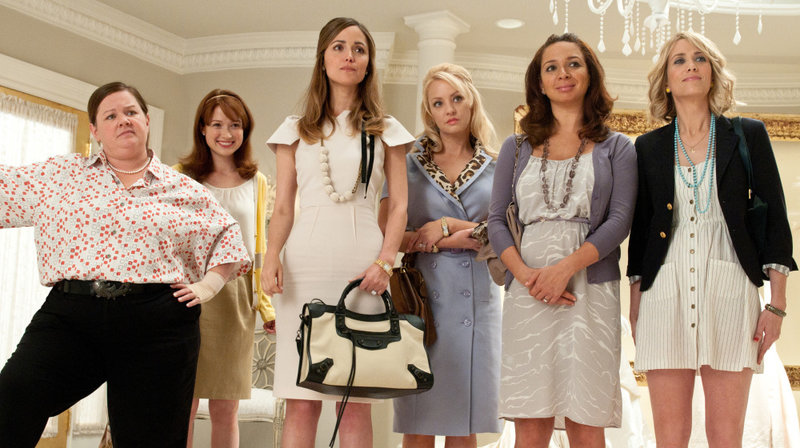 Wedding season might be over, but summer is just about here and you may have some spare time at home. There is nothing better than curling up on the couch and catching a great film to help keep cool.
We love movies and especially movies full of laughter, drama and love. Many of these movies that contain all of the things we love are about weddings. Here is a short list of some of our favorite movies about weddings!
Bridesmaids
This comedy came out in 2011 and is still one of my all-time favorite movies. The film is absolutely hilarious and takes you an a pretty accurate journey of what it is like to be a bridesmaid. From finding out your friend is engaged to planning the bachelorette party and attending the bridal shower, Bridesmaid also includes what it is like picking out dresses and the fun of the wedding after all is said and done. Starring Kristen Wiig, Maya Rudolph and Melissa McCarthy, the film is full of fun, laughter and plenty of one liners to remember. In fact, if you are getting married, this might be the ideal film to watch with your wedding party. And also, take note on what to do and what not to do as a bride!
Bride Wars came out in 2009 starring Anne Hathaway and Kate Hudson. The feel good film is super cute and includes plenty of drama and laughter. The film is about two best friends who get engaged around the same time. Since they were little girls, they have always dreamed of getting married at the Plaza Hotel in New York City. However, the two besties end up fighting over a wedding date at the Plaza Hotel and also buttheads on many other wedding details. The two actresses have great chemistry together and it is a fun film to watch with your girls! So, grab a bottle of wine and your favorite friends and add this to your list for movie night.
No list would be complete without the 2005 comedy, Wedding Crashers. Starring Vince Vaughn and Owen Wilson, this movie is one of the funniest movies of all time. It also features young stars like Rachel McAdams and Bradley Cooper along with the legend Christopher Walken. The movie is about two friends who are known for crashing weddings. They end up falling in love in the process, bringing us lots of laughs. You can't forget the hilarious cameo by Will Ferrell. This is one movie that you can never get tired of watching and is always fun to watch at least once a year. Some big name actors actually are known for getting their start in this film.
This classic film came out in 1991 starring Steve Martin, Martin Short and Diane Keaton. Kimberly Williams plays a young lady who gets engaged. The movie takes us on the tear jerking journey of a father watching his little girl growing up and the joy of wedding planning. The movie was so successful, it went on to make two other similar films. I never get tired of this movie and it reminds of the good old days in the 1990s as it really captures the love of a family and all of the details that goes into planning the most perfect wedding.
The Wedding Singer features Adam Sandler and Drew Barrymore and came out in 1998. The movie takes places in the 1980s and follows a wedding singer who recently had his heartbroken. One thing that is so great about this movie is the music. Adam Sandler puts on a fantastic performance, as it was released during his prime years. The movie isn't for everyone as it is quite silly, but if you are in the mood, it is the perfect film for a great laugh about weddings.
The move came out in 1997 and also features great music. My Best Friend's Wedding stars Julia Roberts, Cameron Diaz and Rupert Everett. The film is such a cute movie full of laughter and drama. The movie is about a couple of high school best friends who said they would marry each other if they ended up single by the age of 28. However, right before her 28th birthday, he gets engaged to a young and spunky 20 year-old. If you are looking for the perfect romantic comedy, this is it!
What are some of you favorite films featuring weddings? We all have our favorites and there are many movies out there that feature some epic wedding scenes. In addition, have any wedding films inspired your weddings? Let us know in the comments if you have gotten any ideas for your weddings from the big screen.
Feature photo by NPR