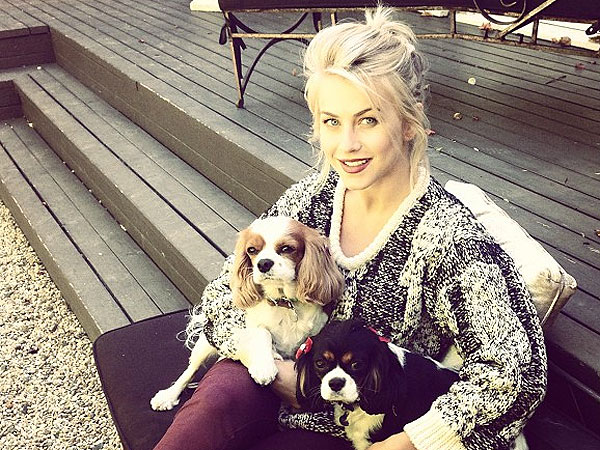 Rolling Stone Magazine came out with their list of Best Instagram Accounts. Some of the people they chose I totally agree with, but others, not so much. So I decided I wanted to make my own list! Plus, these celebs seem to always have the best Instragram ads!
One of my favorite Instragramers has to be Julianne Hough. For one, I love this girl. She is the cutest thing ever. She is always posting fun stuff from Dancing with the Stars and awesome tips from her blog. She also has two really cute dogs that she is always posting photos of!
Another favorite gal of mine is Kaley Cuoco. For one, her Instagram account is named after he dog, Norman Cook. This is adorable and she is always posting fun stuff, like photos of her dogs and fun outings with her hot husband.
One account that made the Rolling Stone's list that I absolutely love is FashionDads. This is one of the funniest Instagram accounts I have seen. They always use the best hash tags and locations to go along with their posts of dads wearing the weirdest outfits.
Steven Yeun, who you might know as Glenn from the Walking Dead, also made Rolling Stone's list and I completely agree. He seems so personable and always posts cool photos from places he travels too along with fun selfies of him and the rest of The Walking Dead cast.
Of course I have to pick another Walking Dead star's account as one of my favorites. Norman Reedus, aka Daryl from The Walking Dead, posts the best photos of him with other celebrities. He also posts a lot of behind the scenes photos of the hit show, which I love!
Taylor Swift is by far my favorite artist at the moment. She is always posting the cutest photos of her adorable cats, Meredith Grey and Olivia Benson (yes, they are named after the lead characters in Grey's Anatomy and Law & Order: SVU). Not to mention, she is always thanking her fans in posts. She has a star-studded group of friends and she is always posting photos from their outrageous vacations together.
There are so many great Instagram accounts and it is so cool to see celebrities post things from their adventures. These are just a few of my favorites! Who are your favorite Instagramers?
Tech Tip : Remotely access all your windows applications on your smartphone device itself without intruding ads & surveillance on citrix xendesktop at an affordable citrix xendesktop pricing powered by one of the best DaaS providers – www.Apps4Rent.com.